Attracting and retaining staff is one of the top challenges for most employers, with ongoing increasing demand for skilled candidates. What does this mean for employers?
There are some important implications for your recruitment strategies and processes, and for staff retention:
• It is harder to find good people
• Good candidates are likely to get alternative offers
• Work/career motivations are changing – is your business responding to this?
Candidate activity
The best candidates will get multiple interviews and find work far more quickly. They can pick and choose between prospective employers. Employee motivations to move are changing and employers who forget or ignore this do so at their peril.
Employee motivations – to move or to stay
Motivations to move jobs can vary and do change. Understanding people's motivations to move – or conversely to stay – is key to staff attraction and retention in today's market. It has always has been important, but other aspects such as the need to work or settling for security in the recent economic downturn may have masked it.
The motivation for candidates to move jobs in a recession are far less important when faced with the absolute necessity of finding any kind of work, where typically the key driver is job security. This has meant that people have taken jobs for less money, lower status and responsibility than they naturally desire, and often also at the expense of lifestyle.
With an economic upturn, motivations change. There are more jobs available and more certainty of finding work. Where job security held people back from moving, they want to hear about new opportunities with increasing status and responsibilities and they want the increased salary and benefits packages which have been held back in previous years.
Results from Sammons Pensions Annual Salary Survey 2021
Factors valued in employment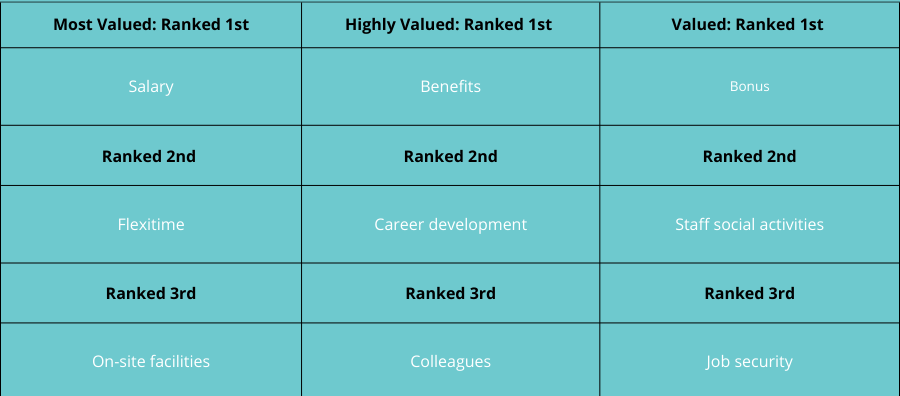 Motivation for changing role
"Have you changed jobs in the past 12 months?"
2016 18%, 2017 20%, 2018 22%. 2019 20%. 14% of respondents 2020 which was unsurprising, but predictable this has increased in 2021, to 19.5%.
"How engaged are you compared to 12 months ago?"
27.6% 2021 more engaged, a sharp decline from 41% 2020; 26.5% 2021 less engage, an increase from 18% 2020; 46% neutral compared to 41% 2020. Lack of bonus and recognition despite strong ratings, and increased expectations as working from home was cited on a number of occasions.
"Motivation for changing role"
Salary, New Challenge, closely followed by Career Progression reflected the past few years' salary stagnations/lack of market movement. Culture featured a number of times in comments made.
How can we help manage this?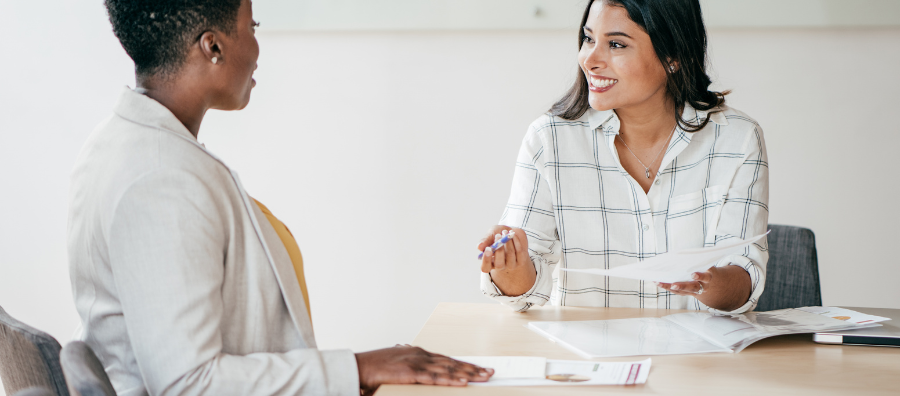 Engage with your recruitment partner
Take the time to fully brief your recruitment agency on your organisation, its mission statement and business objectives, culture and benefits, initiatives such as commitment to ESG and D&I. Your recruitment consultant should have done their due diligence and researched the organisation as much as possible, as will the candidates, but you can share much more in terms of the reality of the company's strategy and opportunities, its culture, how it impacts on its staff, what it is like to work there day to day.  Work with your recruitment consultant to identify the types of individuals who may fit this brief, and how adverts and role briefings will be received by your target audience.
Utilise your recruitment partner to identify the skills and competencies required
Particularly in the pensions industry there are relatively few job titles which cover considerable ranges of skills and competencies.  Work with your recruitment partner to identify the essential skills and competencies required, what are the 'desirables' or 'nice to haves', what personal qualities will work best within your organisation. A skilled recruiter should then be able to produce a shortlist of candidates closely matching the agreed brief, as well as those with transferable skills who may be able to bring other qualities to the organisation.
Sharing salary information
A long-fought argument- should salaries appear on job adverts? Many employers prefer to discuss at interview stage, to not inflate candidates' expectations before this point, or to cause issues for internal staff. Where possible however transparency can be a huge advantage. It is an opportunity for you to both retain existing employees and attract potential candidates if your compensation is attractive as well as sending a clear message that the company is open and transparent in its reward structure.
Utilising a recruitment agency, you can control the amount of information that is shared at each stage of the process, as well as benchmarking your offering to ensure competitive with the market. Your recruitment consultant should work hard to manage candidates' expectations to ensure realistic.
Now more than ever it is important for us to work closely with employers in helping them successfully attract, win and retain best talent. We work with clients long term, helping you retain your best people as well as attracting new talent.
Share this article